Disclaimer: Affiliate links are used in this blog post.  Please see our Affiliate Links policy in our Terms & Conditions page for additional details.
"Live as if you were to die tomorrow. Learn as if you were to live forever." – Mahatma Gandhi
Lifelong learning is the key to entrepreneurial success. Some of the most successful people in the world all have one thing in common: the growth mindset. The understanding that abilities can be developed through dedication and hard work. And how do successful entrepreneurs work on their growth mindset? They keep learning.  If you want to be the best, you need to learn from the best and those that know, and love, to learn create strong resilience – an essential trait for accomplishing big things.
With the wonders of the internet, you now have access to some of the greatest business thinkers, marketers, and philosophical minds in the world. All those entrepreneurs have tasted success but also made mistakes. You can learn from other individuals, so you too can avoid the same costly mistakes. Whether you want to stay up to date on the latest technology advancements in the fitness world or find out what makes the best marketing strategy so successful, there are resources to find this information. 
Everyone's experience is valuable. So we created a short list of thought leaders from a variety of backgrounds. Here are some of the best business, marketing, and wellness resources for fitness entrepreneurs.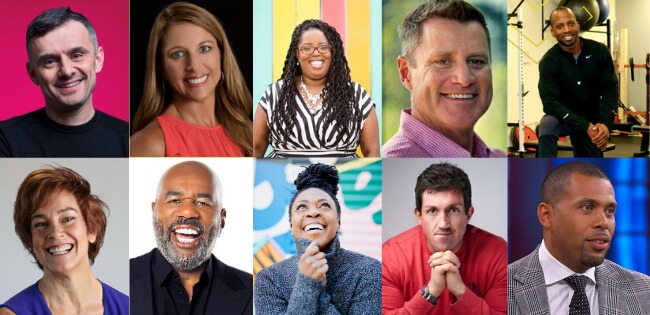 Top Row (L to R): Gary Vaynerchuk, Dori Nugent, Dr. JaNaè Taylor, Tim Reid, and CJ Williams.
Bottom Row (L to R): Debra Atkinson, Steve Harvey, Dalijah Amelia, Phil Graham, and Benjamin Raymond.
1. The GaryVee YouTube Channel
Gary Vee is a bestselling author, speaker, and CEO of advertising agency, VaynerX, working with Fortune 100 companies and some of the biggest brands in the world. His content usually edges more toward motivation but has good advice on the importance of marketing strategy and business strategy. With a strong online presence, you can find Gary Vee content just about anywhere from his podcast, blog and, linked below, YouTube videos to help with your marketing and content strategy: 
Why You Need to Add TikTok to Your Business Strategy
2. The Fitness Business Podcast
This podcast is an excellent professional development resource for business owners in the fitness industry. Every week, expect new guests, leading experts, fitness coaches, and authors as they share their advice and experiences. The podcast has launched a mastermind panel series, which brings on multiple experts to discuss COVID-19 planning and there are a variety of free ebooks on their site, topics ranging from podcasting, financial management tips and improving customer retention. 
3. Minding My BLACK Business®
4. The Small Business Big Marketing Podcast
5. Business Fitness with CJ Williams Podcast
CJ Williams spent six years building a fitness business and he shares his experiences and advice with fellow fitness entrepreneurs. He keeps topics relevant and discusses real issues that will help your business grow, reflecting on the triumph and trials that business ownership brings. Top episodes to listen to include:
Black Businesses Owners: Will You Be Ready?
6. Voice for Fitness Professionals Podcast
A great source for private personal training fitness professionals. Topics include everything from marketing and sales to programming and building a more profitable business. The host Debra Atkinson discusses things like what to post on your social media as well as a 3-step marketing strategy for personal trainers. The Voice for Fitness brand also offers programming resources, including 1-on-1 business support and live staff training.
8. Black Girl Fit Files Podcast
Hosted by the founder of Black Girls Pole, Dalijah Franklin, Black Girl Fit Files is a podcast that discusses health and fitness for black female entrepreneurs and women of color. Episodes are informal, funny, and real. The podcast discusses what it takes to stay true to yourself in the fitness industry as a woman of color. Listen to Staying in Business during Covid19 with Tammeca Rochester of Harlem Cycle. Ms. Franklin and Ms. Rochester talk about how Ms. Rochester opened Harlem Cycle in just six months and how their team of instructors are keeping members engaged with online classes.
If you're interested it taking additional steps to grow your brand, you can sign up for a 3 -week mentorship program lead by BGP Founder, Dalijah Franklin. All mentorship is hosted virtually and when the program is finished you'll walk away with a website, a content marketing strategy for social media and a new found confidence to pitch to brands.
9. The Fitness Entrepreneur Podcast
The Fitness Entrepreneur Podcast is about revenue generating opportunities and having a bigger impact on your fitness business. The business-focused resource is good for topics like marketing, sales, team building, benefits of personal development, and personal productivity. Hosted by Phil Graham, he often brings on guests and some of the most successful fitness entrepreneurs.
Wellness Resources for Fitness Entrepreneurs and Business Owners
As much as it's crucial to find the business and marketing resources that work for you, it's important to stay on top of your own well-being. Taking breaks, keeping hydrated, saying 'no,' are all small ways to create a healthy work environment that protects your boundaries but we understand, sometimes that's not enough. Here's a quick round-up of wellness resources to help maintain your mental health:
Inclusive Therapists – a search database to find culturally responsive therapists 
Tara Brach – mindfulness and meditation podcast  
GRPFIT – health and fitness platform and community for people of color
Cultivating Minds Podcast – a place for fitness professionals to learn, grow and inspire 
Whether you're looking to up your marketing game, increase your productivity, or overcome self-doubt, there's a place that can help you. The right book or podcast can give you the inspiration you need to succeed and help you overcome hurdles in your business. At Ruoom, we celebrate the diverse experiences and backgrounds of everyone – business, and otherwise. No one has walked the exact same path. By being open to the opportunity to learn from a diverse group of experts and thought leaders, you can achieve a new perspective and insight to grow your business and become a stronger leader.